Digital payments systems are on the rise, but few are as popular – or polarising – as e-wallets. Despite its naysayers, the e-wallet market is expected to balloon more than fivefold in the next four years, with as much as 1 in 2 people using one by 2025.
E-wallets have since expanded their range of service offerings. Tencent's WeChat Pay can be used to pay for public transport fare, as well as cross-border ecommerce purchases.  PayPal-owned Venmo also lets users share their transactions on Facebook, Twitter and Foursquare via social media integrations.
One area that has now caught their attention: insurance. The value proposition is clear: embedded insurance in digital transactions allows insurers quick access to potentially millions of e-wallet users. E-wallets move a step closer to offering customers the "one-stop shop" solution they desire.  As insurance partnerships with e-wallets take off, all signs point to success.
Asia's e-wallet craze is just heating up
Many e-wallets are forging insurance partnerships with insurtech firms and insurers, and nowhere else are digital insurance solutions readier to ride the e-wallet wave than Asia.
Already, 46% of Asia-Pacific's 1.8 billion online population already use e-wallets on a regular basis. In Southeast Asia alone, the e-wallet user pool surged from 500 million to 2.1 billion between just 2017 to 2019.
The strong uptake on e-wallets in Asia is partly driven by the popularity of ecommerce in the region. According to Statista, Asian ecommerce revenue is expected to dominate more than 60% of the global ecommerce market by 2024. Some ecommerce markets, like Vietnam, are also expected to see double-digit growth by this year.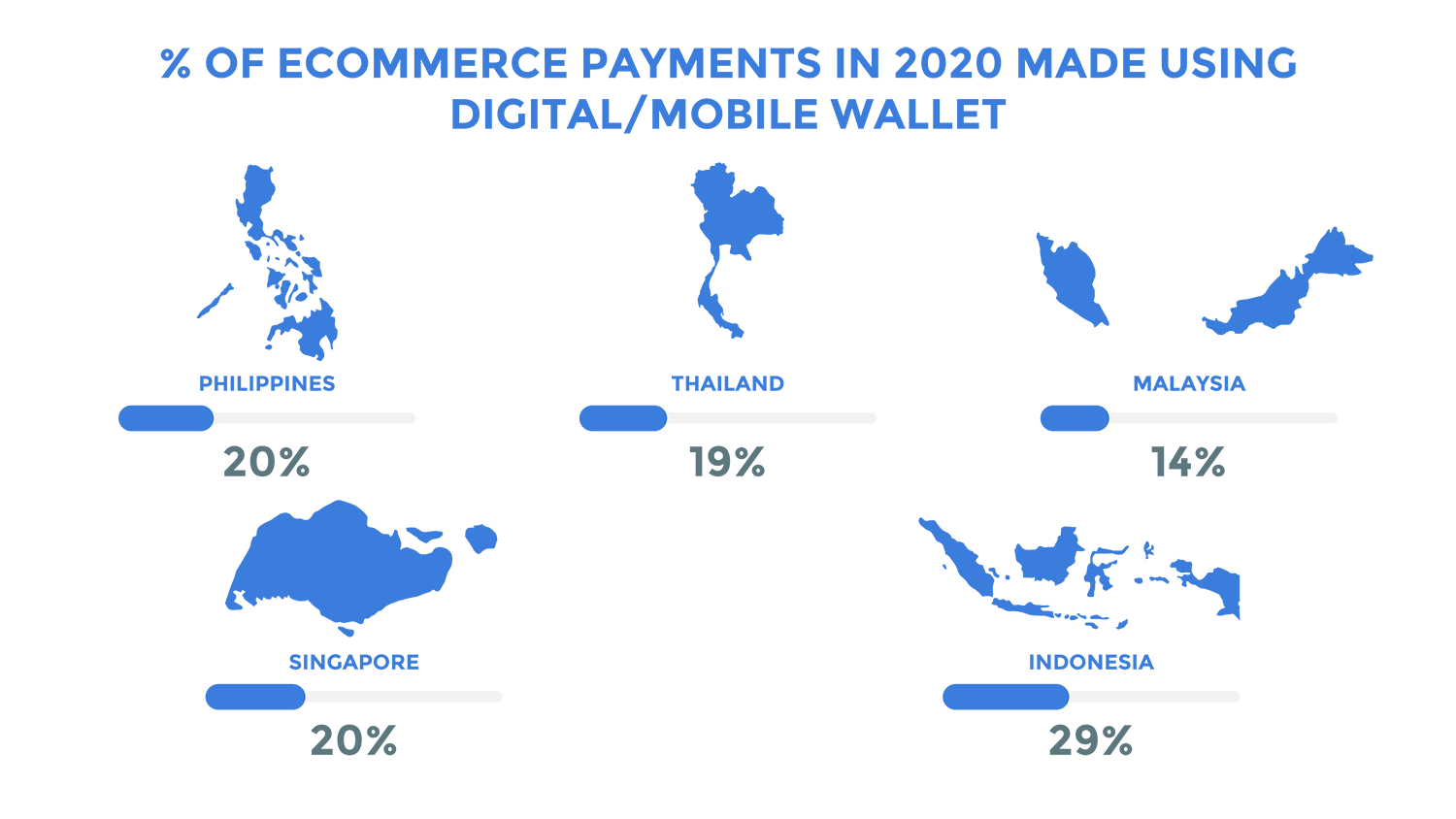 Source: WorldPay Global Payments Report 2020
Internet and mobile connectivity is also picking up across the region. Smartphone ownership in APAC is expected to surpass 80% by 2025, and 9 out of 16 Asian countries are "5G-ready".  Riding this wave of improved connectivity, digital payments in Asia will likely see a significant increase in the near future.
Already, there's a growing number of players jostling for a slice of the e-wallet pie. Regional estimates are absent, but one can extrapolate from country-specific figures. A 2019 report by Fintech Malaysia estimated that there were nearly 53 e-wallets in the country, with the largest one – Touch n Go eWallet – having a far outsized brand awareness among consumers.
| | | |
| --- | --- | --- |
| App | Region | #users |
| GrabPay | Southeast Asia | 170 million+ |
| GoPay | Southeast Asia | 29 million+ |
| Ovo | Southeast Asia | 115 million+ |
| Dana | Southeast Asia | 20 million+ |
| ZaloPay | Southeast Asia | 40 million+ |
| MoMo | Southeast Asia | 13 million+ |
| LinkAja | Southeast Asia | 40 million+ |
| Google Pay | South Asia | 900 million+ |
| PhonePe | South Asia | 280 million+ |
| Paytm | South Asia | 350 million+ |
| MobiKwik | South Asia | 101 million+ |
| WeChat Pay | Greater China | 865 million+ |
| AliPay | Greater China | 1 billion+ |
| LinePay | East Asia | 32 million+ |
| PayPay | East Asia | 20 million+ |
| Rakuten | East Asia | 95 million+ |
| Kakaobank | East Asia | 10 million+ |
| Toss | East Asia | 14 million+ |
Across the region, e-wallet users also tend to be urban consumers – 49% of them who are commercial bank customers use one – who are below 35 years of age.  In Malaysia for example, 71% of Gen Z Malaysians used e-wallets in 2020, compared to just 43% of baby boomers.
A golden opportunity for insurance partnerships
As competition heats up, e-wallets look to improve customer stickiness by expanding their services with complementary features. One such feature is providing digital insurance solutions to users.
There are many ways to bring insurance into the e-wallet equation. Some partnerships, like Curv's collaboration with German insurer Munich Re in 2019, focused on insuring against cyber attacks on e-wallets. Touch n' Go eWallet's partnership with AIA Malaysia earlier this year, on the other hand, offers custom-tailored digital insurance solutions to Touch n' Go eWallet's users.
Most partnerships in Asia have been the latter.  In this respect, digital insurance can apply to general online shopping, or more personal types of insurance like personal accident protection and long-term healthcare insurance.
By partnering with insurers or insurtech firms, e-wallet providers can offer customised insurance plans that are either personalised according to customer spending data, or tailored for certain purchases in the form of embedded insurance.
Including digital insurance within Singtel Dash, for example, gives customers not only "full control of their finances," but also the convenience and "flexibility of managing their insurance protection coverage," according to Singtel's International Group CEO Arthur Lang.
Case in point: Dash PET, the company's new personal finance management tool, provides all-in-one insurance with a savings component and on-demand protection at the same time.
Consumer-facing insurers and insurtech providers also benefit by gaining a new distribution channel to market insurance products and services to customers at a lower acquisition cost.
When Singapore's FavePay struck a deal with PayLah, PayLah users could scan FavePay QR codes for making payments. That accelerated user acquisition for FavePay, which attributed nearly 25% of new users to their tie-up with PayLah.  Leveraging on a unique and complementary user network just like FavePay allows insurers to forge partnerships with e-wallets to similar effect.
Elsewhere in Indonesia, local e-wallet provider Ovo also partnered with Prudential Indonesia to launch a digital sharia life insurance product. The move allows Prudential Indonesia to tap on Ovo's 110 million-odd user base across the country for a far lower acquisition cost.
What makes insurance partnerships with e-wallets so attractive? One reason lies in the fact that the product-driven approach insurers have is too slow to adapt to changing customer needs. By combining the strong digital reach of e-wallets with their insurance expertise, insurers are better poised to respond to customer preferences and tailor their insurance offerings accordingly.
Speed bump ahead?
Still, there may be challenges ahead that could derail prospects for insurance partnerships with e-wallets.
For one, cases of e-wallet fraud and theft still persist. Although customer trust in e-wallets has risen significantly since 2015, doubts linger. Trust greatly influences user satisfaction with e-wallets, so it's paramount that e-wallets continue to invest heavily in cyber-protection for insurers to feasibly consider a partnership.
It's also getting harder for new e-wallets to break into the market. Regulations over the sector are tightening especially in China, and it's often a winner-takes-all market in countries seeing mass adoption of e-wallets – the top 2 players alone capture more than 80% of the market. For insurers, that could mean that opportunities for partnerships with e-wallets may be few.
That may still be a few years down the road however, given that some regions like Southeast Asia are still seeing an explosion in new entrants.
For now, the opportunity is clear: insurers and e-wallets alike can both win in an insurance partnership. Some haste is advised.