Airlines emerge as a key player in the travel rebound being seen around the world. With various segments including leisure (like family vacations and adventure seekers) and business as bright spots for the industry, there's a huge opportunity for these intermediaries to initiate new offerings and partnerships in travel insurance.
As recovery looms large, there are subtle to significant shifts and trends emerging in airlines' insurer partnerships that defy traditional distribution models and tap into digital means and capabilities via embedded insurance.
Get these up-to-date data and expert insights from Ancileo's 2022 World Travel Insurance Benchmark for Airlines, a global study on 150+ airlines' travel insurance programs and shifts in global travel insurers' dominance in the market.

This report explores the growth of travel insurance partnerships in the airlines ecosystem, lending important insight into what lies ahead for the industry in 2022 and beyond.

Contact us to get free, full access to the complete research deck.
Trend #1: Opt-In Travel Insurance Integration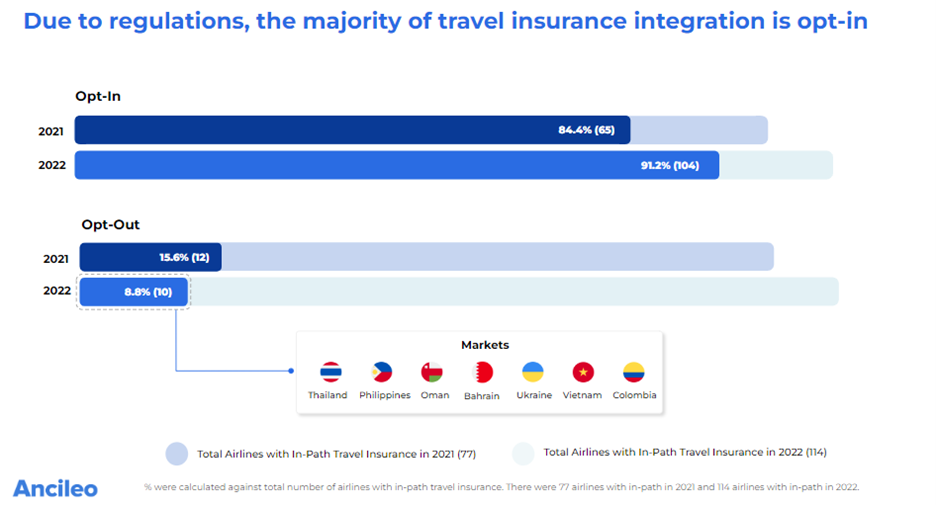 Due to regulations, the majority of travel insurance integration for airlines is on opt-in integration.
In opt-in integration, the customer needs to tick off the travel insurance option to purchase with their flight ticket, effectively "opting in" to buy the product. As such, optimising the product display becomes highly important to attract customers.
In contrast, opt-out integration auto-selects the travel insurance in the flight ticket purchase, and the customer has to opt out if they don't want to purchase. While this naturally converts better, market regulations worldwide have been shifting more towards opt-in, such as Russia in 2021.
Trend #2: Most Travel Insurance In-Path Are Strategically Positioned On The Add-Ons and Payment Touchpoints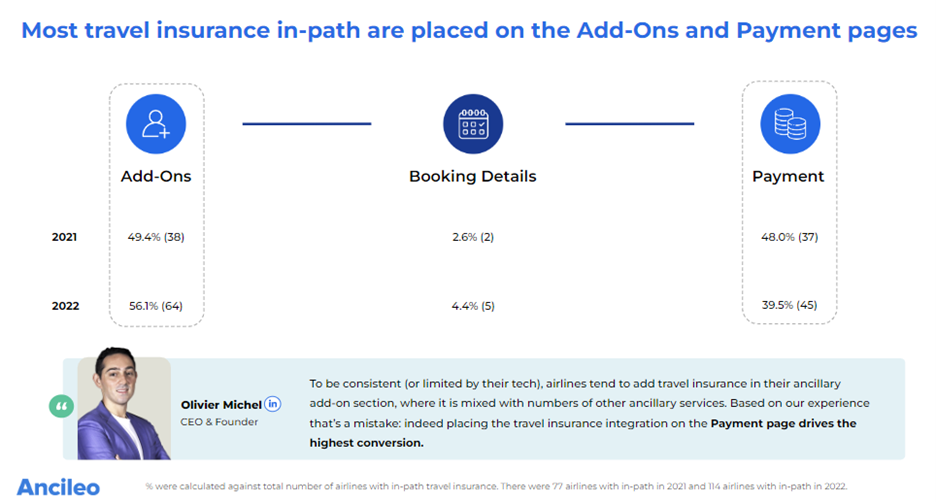 The in-path or in-booking path is an option integrated within the airline booking website – not white labels, not website ads, and not purchases redirected to another website. This option allows customers to buy their travel insurance the same time they confirm the purchase of their flight tickets.
Consistent with 2021 numbers, 2022 data shows that most travel insurance in-path are placed on the Add-Ons and Payments page.
Whether for consistency or as a limitation of their technology, airlines tend to add travel insurance in their Add-Ons section, where it is mixed in with other ancillary services. This is a less-than-optimal position, as placing the travel insurance integration on the Payment page actually drives the highest conversion.
Trend #3: Frequent Review, Clear Communication Pave Path to Success
Optimising their TI offerings means airlines should remain on the lookout for market trends and developments. Factors to analyse include the following:
Price
Relationship with travel insurer
Project deployment timeline
Technology, e.g., customer claims platforms
Marketing efforts
Customer feedback
And more
It is crucial for airlines and insurers to evaluate the travel insurance benefits to make improvements in case it is needed, such as the pikes of the pandemic. Competitive pricing – generating a good profit – as well as teamwork make it possible for both parties to offer the best product possible.
To navigate challenges, good communication and clear prioritisation for both airlines and insurers are both key. Crucial factors to discuss include low-cost premium rates, technological tools for customer claims, insurer branding and API capabilities of the insurer, to name a few.
Trend #4: Cross-Sell to Products Beyond Travel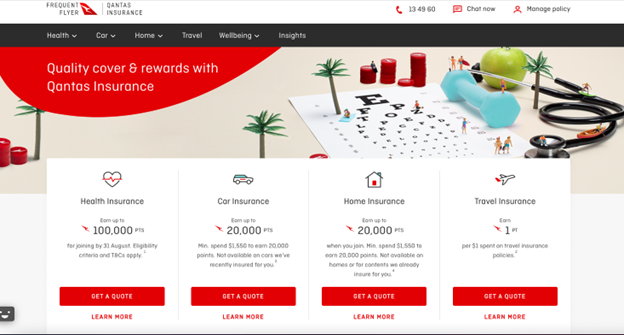 Airlines potentially build on their insurance ecosystem by cross-selling to products beyond travel.
Qantas Insurance has built a full suite of an insurance ecosystem beyond selling TI through expanding into health, life, car, and home insurance. Integration with its Frequent Flyer program also allows for offset of purchases using miles.
Cebu Pacific in the Philippines offers personal accident insurance coverage for hospitalisation and surgery due to accidents, with affordable premium payments from as low as US$0.02 a day.
Mental health benefits also add to differentiation, with wider inclusivity for related conditions such as for travelers with learning difficulties and ADHD.
Trend #5: Personalisation and Mobile UI/UX Optimisation Are Key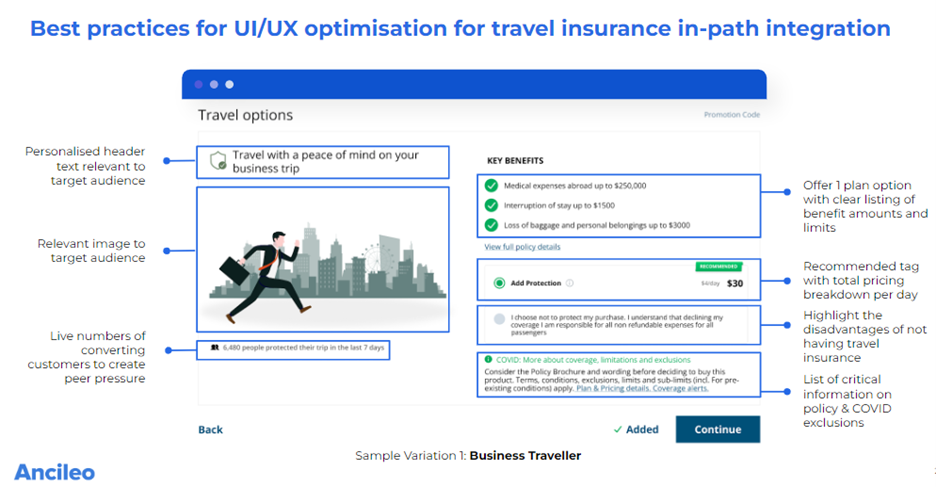 Personalisation is a prevailing theme in airlines' travel insurance offerings. Airlines are moving more towards personalising travel insurance benefits for varying segments, such as families, solo or adventure seekers, and business travellers.
UI/UX optimisation, including mobile integration, remains critically important now more than ever.
Personalising displays on different segments, for example, greatly assists in conversion. The trick is to keep it simple with a minimal design, removing visual "noise" that serve as barriers to purchase.
Of airlines' mobile traffic composition, 46.8% forms more than half of the total web traffic volume. This means that mobile commerce accounts for a high composition of air ticket sales.
Mobile optimisation of TI in-path integration can involve the following:
Simplified tabs for customer journey
Use of minimal UI design for speed
Optimising for different operating systems and screen resolutions
More simple yet meaningful tweaks to mobile
These data and insights are excerpts from the Ancileo's 2022 World Travel Insurance Benchmark for Airlines, a global study on 150+ airlines' travel insurance programs and shifts in global travel insurers' dominance in the market.

This report, which explores travel insurance partnerships in the airlines ecosystem, features expert insights including 80+ in-path screenshots.

Contact us to get free, full access to the complete research deck.