In today's world striving for diversity and inclusion, differentiating travel insurance (TI) can mean integrating a mental health benefit in the core offer. This is what Cover-More, a global TI and medical assistance provider headquartered in Sydney, Australia, did exactly in 2017.
In that year, Cover-More became one of the first providers in the country to remove the general exclusion for mental health conditions. Prior to said change, policy relating to mental health was usually worded this way:
General Exclusions
We will not pay for:
20. Claims directly or indirectly arising from your anxiety, depression
or mental or nervous disorders.
The Why: Listening to the Customer, Changing Perceptions
Cover-More saw changing perceptions all around the world, prompting a review of its priorities in its travel insurance offerings.
"In Australia, public sentiment and stigma can change very quickly, and travel insurance providers must listen to their customers," said Michael Storozhev, General Manager for Strategic Underwriting AUNZ and Head of Global Insurance Products and Underwriting at Cover-More.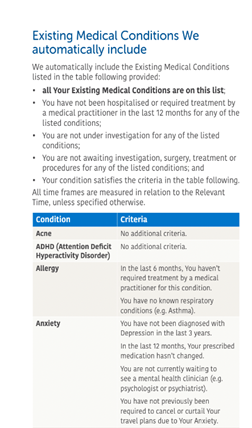 In 2017, Cover-More was among the first TI providers in Australia to remove the general exclusions for mental health. Dubbing them as "discriminatory" exclusions that were unfortunately rather standard in the local and global market, Cover-More put its strong industry advocacy to use to ensure TI products in the country followed suit.
In redesigning its TI product with mental illness benefit in mind, Cover-More strived for wider inclusivity for other medical conditions, such as for travellers with learning difficulties and ADHD.
It also aimed to tailor its products to customer needs, with some youth-centric solutions, such as Freely, incorporating autism in its standard coverage.
Its product design approach: treat mental health conditions just like any other health condition a customer may have. This was a far cry from the time when insurers required psychiatrists to document and diagnose any anxiety, depression or mental illness before approving claims.
"This customer experience was complicated, and in the last five years, we've seen the industry moving away from such requirements," Storozhev added.
Differentiated Travel Insurance Today
Cover-More continues to be one of few Australian providers to include low-risk mental health conditions in standard coverage without the need to complete a medical screening.
As of 2019, there's been a 600% increase in customers reaching out to confirm they had coverage for mental health conditions.
To date, the insurer consistently designs products covering anxiety and depression in Australia comprising 80% of travellers with mental health conditions, while simplifying the customer experience.
"There should be a recognition that such societal changes are not isolated to just mental health, and inclusivity is a key wider priority for Cover-More," Storozhev said.
Going Beyond Policy Wording Changes
In walking its talk of mental health support, Cover-More goes beyond policy wording and integrates the support in the wider insurance proposition.
Complementary programs to support the insured's mental health include the following:
Free trauma counselling to those who witnessed horrific events overseas, such as the Bastille Day attack in Nice, France, and the Nepal earthquakes in 2015. Trauma counselling, typically offered outside of TI policies, are provided to Cover-More customers by experienced internal psychologists.
Simplified policy purchase, where anxiety and depression are included as standard coverage, with no detailed medical assessment required.
Reduced planning and travel stress from COVID-19 uncertainty, where Cover-More and its in-house assistance provider World Travel Protection provide additional COVID-19 guidance to customers through a travel risk tool for planning their international travel.
The tool allows customers to view any up-to-date entry and quarantine requirements, currently COVID-19 rules for public spaces, as well as the COVID-19 policies of more than 75 major airlines to remove any unpleasant surprises when entering new destinations.
Since 2017, Cover-More's product development continues to evolve, with the insurer recognizing that more can be done even with the removal of general exclusions as a strong first step.
Get these up-to-date data and expert insights from Ancileo's 2022 World Travel Insurance Benchmark for Airlines, a global study on 150+ airlines' travel insurance programs and shifts in global travel insurers' dominance in the market.

This report explores the growth of travel insurance partnerships in the airlines ecosystem, lending important insight into what lies ahead for the industry in 2022 and beyond.

Contact us to get free, full access to the complete research deck.